Boulder

Description:
MMJ America started as a medical marijuana dispensary and has evolved in conjunction with Colorado Marijuana Laws by offering legal recreational sales as well. Our mission is to be the leading marijuana dispensary group all across America. We believe in the healing powers of cannabis. We put patients first by providing top quality Cannabis Cup winning product at unbeatable prices and by advocating for the progressive reform of marijuana laws.
MMJ America is medical marijuana. From our daily customer service, to national advocacy, we strive to be the best in the industry. Contact us today if you are considering getting into the marijuana business. You can purchase access to our proprietary retail and growing systems in a franchise-style partnership.
We strongly believe in the medical powers of the marijuana plant. We take pride in our ability to produce the best quality medicine with our cutting edge cultivation systems. MMJ America offers a large variety of cannabis products so our patients can choose the best method of consumption to suit their conditions. We believe in educating our clients and staff on the capabilities of medical marijuana, and always make safety a top priority.
MMJ America provides top-quality, Cannabis Cup award-winning product at guaranteed best prices. Our three Denver-metro area dispensaries tout knowledgeable budtenders and a wide selection of carefully grown medicine. Be sure to read up on our member benefits and you'll see why MMJ America is the clear choice for patients in Colorado.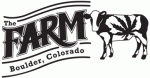 Description:
The Farm is a locally owned and operated Colorado marijuana dispensary in the heart of Boulder. Established in 2009, they pride themselves in growing clean, potent, natural Craft Cannabis for adults 21 and over.
With the passing of Amendment 64 in November of 2012, Colorado residents made it possible for marijuana consumers to exercise their liberties and legally purchase cannabis flowers, extracts and edibles. This legislation has allowed for The Farm to fulfill their vision of opening their doors to the public and offering some of the highest quality cannabis, vaporizers, and accessories available today.
Their knowledgeable staff is warm, welcoming, and excited to share their passion dor the end of cannabis prohibition. At The Farm you will find a professional, open, and consultative environment.
The Farm cultivates 100% of their own Craft Cannabis in Boulder, CO, where their team consists of expert growers, master curers, educated bud-tenders, and many more passionate and dedicated members. They employ sustainable growing techniques with small-bath outputs to bring out the best quality of each and every plant. Their goal is to consistently grow high0grade cannabis with only the most exceptional aroma, flavor, and effects.
In addition to their extensive menu of Farm strains, they also offer their guests a variety of concentrates including Hummingbird Brand's CO2 extracted hash oil, bubble hash, rosin, wax and shatter. They also offer a vast array of edibles, topicals, handmade glass accessories and Farm–branded merchandise.