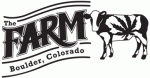 Description
The Farm is a locally owned and operated Colorado marijuana dispensary in the heart of Boulder. Established in 2009, they pride themselves in growing clean, potent, natural Craft Cannabis for adults 21 and over.
With the passing of Amendment 64 in November of 2012, Colorado residents made it possible for marijuana consumers to exercise their liberties and legally purchase cannabis flowers, extracts and edibles. This legislation has allowed for The Farm to fulfill their vision of opening their doors to the public and offering some of the highest quality cannabis, vaporizers, and accessories available today.
Their knowledgeable staff is warm, welcoming, and excited to share their passion dor the end of cannabis prohibition. At The Farm you will find a professional, open, and consultative environment.
The Farm cultivates 100% of their own Craft Cannabis in Boulder, CO, where their team consists of expert growers, master curers, educated bud-tenders, and many more passionate and dedicated members. They employ sustainable growing techniques with small-bath outputs to bring out the best quality of each and every plant. Their goal is to consistently grow high0grade cannabis with only the most exceptional aroma, flavor, and effects.
In addition to their extensive menu of Farm strains, they also offer their guests a variety of concentrates including Hummingbird Brand's CO2 extracted hash oil, bubble hash, rosin, wax and shatter. They also offer a vast array of edibles, topicals, handmade glass accessories and Farm--branded merchandise.