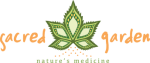 Description
At Sacred Garden, they support the needs of patients registered with the New Mexico Department of Health Medical Cannabis Program. They take pride in growing locally and naturally to provide a healthy and safe alternative to pharmaceutical drug therapies.
Wellness is their ambition and their knowledgeable staff will help you find the most effective herbal remedies to support your medical needs. They invite you to visit with one of them to see what works best for you.
They have many forms of medicinally dense options that can be effective in treating a host of medical conditions. They offer dried and cured flowering buds, natural and organic edible varieties, extractions, oils, topical creams, as well as mouth sprays, tinctures and more, so that your individual health needs may be met easily and effectively.
Nature's Medicine, as they call it, can work along with or as an effective alternative to the allopathic care you are receiving today. "It is our pleasure to support your journey to health and a pain free life."