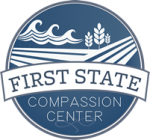 Description
First State Compassion Center, Inc. will provide certified, licensed patients with safe, affordable access to high quality medical cannabis in a dignified and patient-centric environment. We will utilize our skills to strictly comply with the laws, rules, and regulations established by the State of Delaware in creating a facility that is a model for regulatory compliance and compassion for patients.
At FSCC, the patient is at the center of all we do. Our mission is built on providing licensed patients with safe access to high quality and affordable medicine. We take this commitment to patients quite seriously, and all of our team members are trained on creating an environment that puts patients first. We recognize that our patients are dealing with an array of complex, and in some cases very serious, medical conditions. We are committed to providing the most compassionate and comprehensive care and support to all. This commitment will be met each day at FSCC, regardless of a patient's income status or ability to pay.
To achieve an optimal level of competency in the distribution of medical cannabis, FSCC has created a team that is highly experienced in the fields of security, law enforcement, and existing state-licensed compassion center operations.
FSCC is led by President Mark S. Lally, a retired, decorated member of the Delaware State Police who is exceptionally equipped to ensure the safety, security, and diversion prevention necessary in this high-profile endeavor.
The Senior Vice President of FSCC is Joel Allcock, a new resident of Delaware who enjoys extensive experience in management of Rhode Island's largest state-licensed compassion center in Providence. Together, Mr. Lally and Mr. Allcock share a deep appreciation and concern for patients with qualifying medical conditions, and will combine their diverse skill sets to operate a compassion center in Delaware. FSCC believes it is best to develop a local team with individuals committed to serving patients with a safe place to acquire medicine.

Description
At Nature's Way, we provide patients with comprehensive assessments for medical marijuana treatment for ailments that traditional medical care has failed to improve.
Started by an experienced family doctor board certified in internal medicine and medical marijuana specialist. Grounded by a deep understanding of scientific literature, tremendous success rates using dronabinol, a synthetic marijuana derivative, Dr. Roman is dedicated to incorporating medical marijuana into primary care for eligible patients.Connect with medical marijuana physicians and learn the benefits of medical cannabis. Nature's Way Medicine offers medical marijuana evaluations in Delaware