Description
Barbary Coast is a marijuana dispensary conveniently located in the beautiful SOMA District of San Francisco. We are a full service collective, licensed under California State Law. All of our marijuana is lab-tested for both safety and potency so that clients get the best medicine available in a variety of different strains. At Barbary Coast we are a community of cannabis enthusiasts who understand the wellness benefits of medical marijuana. We are focused on providing the highest quality products to our distinct clientele. Our patients recognize and appreciate the exceptional selection, variety, and quality we carry in our collective including flowers, edibles, topicals, and concentrates.
At Barbary Coast, our focus on the patient, which is why we emphasize excellent customer service. We strive to create an environment of friendliness, compassion, and integrity and only employ the most knowledgeable and gracious staff. The community members of Barbary Coast are advocates for the safe, medicinal use of marijuana to treat illness and we pride ourselves on expanding the availability of affordable medical marijuana as an alternative to opiates and the dangerous and unpredictable conditions of the illicit drug market.
We honor the trust afforded to us by the citizens of California and faithfully uphold the spirit and letter of the law. All patients must have valid CA ID, a physician recommendation or ID card, and must be 18 or older to join the Barbary Coast collective. There is no membership fee!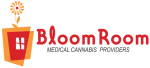 Description
Bloom Room is located on Jessie St. in Mint Plaza near Blue Bottle Coffee and the Westfield Shopping Center. The storefront location is a comfortable retreat from the the SOMA / Financial District and is complete with its very own Vapor Lounge.
At Bloom Room, we display all our available flowers at the counter, so our Members can easily browse our entire selection of cannabis medicine. Our knowledgeable cannabis consultants are ready to help you find the correct medicine for your particular tastes and needs. As a Member of the Collective, you are invited to use the Volcano Vaporizers, which are located in the Vapor Lounge for your convenience.