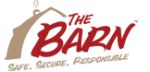 Description
Medical marijuana dispensary in Burton, Michigan
The Barn is a Michigan Medical Cannabis Dispensary. They provide medical solutions based on the cannabis plant. Their goal is to provide you with Safe, Secure and Responsible access to high quality medication.
They have a comfortable waiting area and private viewing area where you will always have your individual privacy while choosing your medicinal cannabis. They strive to make every patient feel valued,respected and cared for as we conduct ourselves in a professional manner.
They believe this focus on comfort and overall wellness will create a inviting, warm, and comfortable environment that will aid in the patients relief and healing, making The Barn the premier destination for medical cannabis patients in Michigan. Working with their patients to provide a safe, comfortable and responsible atmosphere is what really sets them apart from other cannabis facilities.