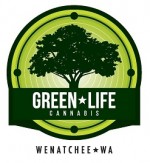 Description
Pot retailer in Wenatchee, Washington
Green Life Cannabis is Chelan County's premier retail marijuana store in Wenatchee.
The vision to open a boutique retail marijuana store was many years in the making and came to bloom with the passing of Washington State Initiative 502. With several months of hard work, Green Life Cannabis finally opened on August 23rd, 2014.
Every aspect of our business model is set up to serve the best interests of our customers. Green Life Cannabis only carries the highest quality flower, edibles, shatters, wax's and oils to meet your recreational needs.
Opening hours
Monday-10am to 8pm
Tuesday-10am to 8pm
Wednesday-10am to 8pm
Thursday-10am to 8pm
Friday-10am to 9pm
Saturday-10am to 9pm
Sunday-10am to 6pm
Green Life Cannabis's Mission:
To create and maintain a memorable atmosphere in our store based on professionalism and compassion
Provide a wide variety of top grade recreational marijuana products for our customers at affordable prices
Help eliminate the negative perception attached to marijuana, through industry-leading service