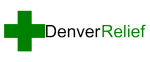 Description
Denver Relief is a medical and recreational cannabis center located at 1 Broadway in the heart of Denver, Colorado. They were founded on the principle that healthier approach to personal wellness management exists than what conventional medicine has dictated historically.
They have successfully assisted thousands of patients in reducing or entirely eliminating their dependency or pharmaceutical drugs, which they had been accustomed to taking to treat a myriad of debilitating conditions. By finding the most appropriate way to medicate with cannabis, promoting healthy lifestyles, the staff at Denver Relief have been vital partners in improving the quality of life for their patients since 2009.
Denver Relief is a tenured group of professionals dedicated to providing the highest quality cannabis experience to medical patients and adults 21 years of age and older. They are passionate Denver citizens that strive to enhance the lives of their patients and customers while changing the perception of cannabis as a safe recreational substance and a viable, safe medicine for an array of conditions. Denver Relief is an active member of the community through social action and philanthropy because they understand that they cannot succeed unless their neighbors do too.