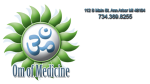 Description
Medical marijuana dispensary in Ann Arbor, Michigan
Om of Medicine is now celebrating its 6th year. It is a provisioning center and non-profit organization in Ann Arbor founded to assist our members in safely and securely obtaining medical cannabis in accordance with the Michigan Marijuana Act of 2008. All members must be valid state-registered medical cannabis patients. Proper documentation and identification is required for membership. Because the Michigan Marihuana Act of 2008 recognizes the rights of out-of-state patients, membership is open to non-Michigan residents who are registered cannabis users in their resident state.
Their facility:

Located in the heart of downtown Ann Arbor, Om of Medicine is surrounded by establishments for dining, shopping, and entertainment
They aim to provide an artistic, visionary, and inspiring environment
Their staff are well trained, compassionate, and eager to help you.
An elevator and ramp are located in the back of the building
Complimentary 1-hr parking validations are provided (Please refrain from parking in restricted spots or alleys)
Two guests may accompany you to their member lounge.
Receive a FREE birthday gift.
View local artwork, and enjoy complimentary beverages and FREE wi-fi each time you visit
Enjoy the option to pre-order online or by phone.
Receive invites to FREE bi-monthly comedy and talent shows, cultivation seminars with geneticist and cannabis culture guru, DJ Short, participate in volunteer work with Food Gatherers, and become politically active.
They offer discounts for those with disabilities, seniors, and veterans
Participate in an anonymous University of Michigan pain study.
View and purchase local artwork.