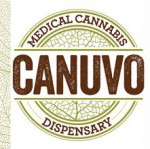 Description
Medical marijuana dispensary in Biddeford, Maine
Canuvo Inc is a non-profit Maine corporation that is dedicated to supplying eligible patients in Maine with appropriate strains of medical cannabis at a reasonable cost. They offer a safe place for those interested in medical cannabis to learn and acquire what they need during illness or continued care. The dispensary's core value is one of compassion and trust that supports a positive and helpful atmosphere.
Canuvo was started by Glenn Peterson in 2011. Glenn's mission is to provide patients with choices in the area of medicinal grade cannabis. Each day they are open, they offer 15-25 different strains of cannabis and a selection of edibles, tinctures and topicals. They find that most patients can benefit from a dual approach when dealing with their ailments or condition. Their staff will suggest helpful ways to achieve your wellness goals. As a family run business they take pride in cultivating and manufacturing applications that will provide the most relief.
Business Hours
Monday: 12 - 5:30
Tuesday: 10:30 - 5:30
Wednesday: 10:30 - 6:30
Thursday: 1:00 - 6:30
Friday: 10:30 - 5:30
Saturday: 10:30 - 2:00
Sunday: Closed