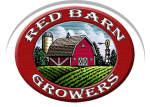 Description
At Red Barn Growers, our mission is to bring to New Mexico medical cannabis patients only the highest quality of soil cultivated cannabis. We achieve this quality by superior genetics, loving cultivation, and not cutting corners. Quality medicine production is a result of having the patience to harvest only when our cannabis reaches its peak. We understand that quality medicine is a result of quality care.
We have been in the plant industry for over 25 years. Our pedigrees include: Bachelors of Science degree in Horticulture with an emphasis on Green House Management, and a Masters of Science degree in Horticulture with an emphasis on plant physiology. Our crew has over 45 years of history running very successful independent businesses. We have a passion for cultivation, and a long track record of customer service and customer satisfaction. Christian morals and ethics along with an understanding of patient needs, and genuine care for people guides us in all that we do.
We understand how to grow plants, push them to perform to the peak of their ability, and yield the most they can. Combining this with successful business experience helps us excel in the medical cannabis field. Red Barn is not the largest producer, but we strive to provide the best quality medication in the state. We love to talk about our plants because we have a passion for growing. We also love to talk to our patients because we have an even greater passion for people. Our goal is to bringing relief to each and every one of our patients in a friendly, caring environment. We look forward to serving you.